caring for the planet as well as our dogs
We're committed to (slightly obsessed) with reducing the environmental impact of our products as much as possible. As a business we are super conscious of the footprint we leave on the earth, and as such a key part of developing our product range has been designing and developing all of the packaging materials to be completely sustainable. Yeah there were quicker, easier and undoubtably more lucrative ways for us to do things but we passionately believe that companies like us all need to step up and make the effort. In this day and age there really is no excuse to continue down our destructive, wasteful way of consumerism when alternatives are available if you care enough to seek them out. We are proud to have committed to the following.
100% Compostable packaging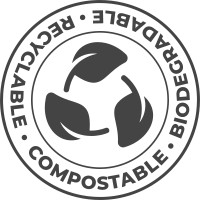 Everything we use is totally, properly compostable. the specially developed pouches we use to pack all of our treats & supplements in are produced from sustainably sourced paper with a 100% plastic free lining derived from water. You can recycle it with the rest of the paper stream or simply pop it in your compost.
That's why our pouches aren't resealable. despite naughty 'biodegradable' pouches that claim to the contrary there is no truly compostable paper based zip lock bag on the market. and even if there was, adding one would use about as much material as the rest of the entire pouch again. It's not too much to ask that you simply fold the top over, or pop a paper clip on to keep it closed, that way we can use as little resource from the planet as possible.
Card made from agricultural waste

The card used on our supplement sleeves is pretty darn clever if we do say so ourselves. It's produced from waste agricultural material (leaves, stems) using 100% green energy, so you'll notice a unique texture and distinctive appearance when our beautiful designs are printed onto it. As per everything else It's totally compostable, it's just leaves after all!
low food miles
We use only British meat for welfare and traceability reasons, but this also has the benefit of significantly lower food miles than that of a lot of the treats on the market (often sourced from the far east, or eastern europe).
and sustainably caught fish
We're proud to say that our fish croutons are one of the only fish treats on the UK market to carry the MSC logo. Assuring transparent third party monitoring of the sustainable fishing practises that went into sourcing the ingredients.